Welcome to Kipos Taverna and Apartments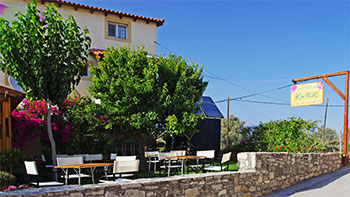 It all started with the comments of friends and family who enjoyed meals with us under the stars in the garden or beside the log fire in winter, and the suggestions that we open a taverna to share the atmosphere with others.
After many months of dreaming, planning and preparing we finally opened in March 2010.
We are a family run restaurant, I am English and my husband is Greek and our philosophy was that guests should not feel like tourists but guests at a family dinner, offering good home cooked food that you would be offered in any Greek home.
We have a varied menu offering Greek and European cuisine plus daily specials, which include vegetarian and seasonal dishes.
We also host Fundraising Coffee Mornings and Music Evenings for the local Animal Welfare Organizations, all of these are announced on our Facebook Page "Taverna Kipos".
The Taverna
We chose a traditional Greek name for our restaurant, kipos meaning garden because due to the wonderful climate guests can enjoy eating outside most of the year. Guests can choose to sit on a bougainvillea covered terrace or a cool green lawn, surrounded by the scents of fresh herbs and night jasmine.
You will find us down the hill of Kamilari, in the direction of Agios Ioannis or Phaestos, turning on your right in front of the Marmargiana fountain. Just follow the signs!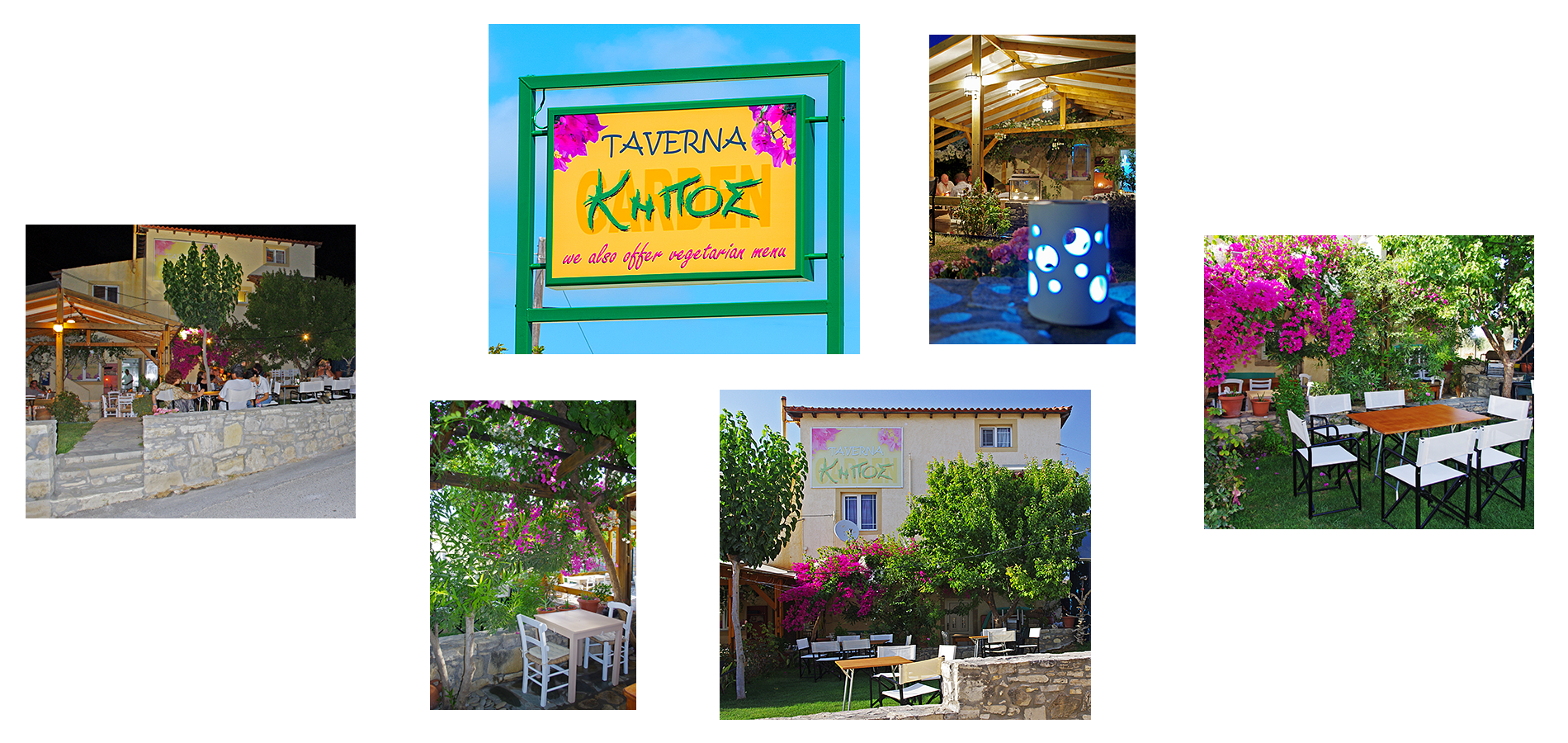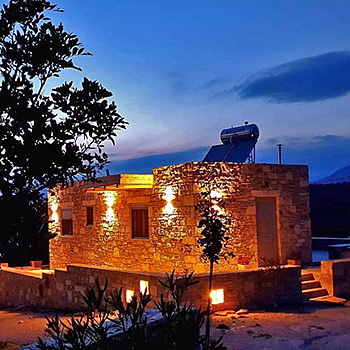 Kipos Apartments are the perfect holiday accommodation for couples, families or groups. They are situated in Metochi, on the edge of Kamilari in southern Crete. They are family owned and are situated beside the family's taverna, Taverna Kipos. The apartments offer self catering accommodation with private balconies/terraces. They overlook the Messara Plain and olive groves with a back drop of the ever changing colours of the Psiloritis Mountain Range. In the distance the archaeological site of Faistos can be seen.
Kipos Apartments are newly built on the site of an old family house. They are built of stone, some of which came from the original house. They are stylish traditional apartments with some contemporary touches. Bed linen and towels are supplied and are changed on a regular basis.
The kitchens are fully equipped but if you are feeling lazy or just want to enjoy your holiday, don't forget the family's taverna is next door. This is open every night except Mondays. Take away meals, packed lunches and breakfast can be ordered.

Pano Apartment is 55sq.m and sleeps up to 4 people. It has a bedroom, bathroom and a kitchen/living area. The bedroom has a king size bed. The living area has a daybed/sofa that can open as a double bed. There is a large balcony/terrace where you will be able to dine or just sit and enjoy the views.

Pano Apartment costs €70 per night.

Kato Apartment is 80sq.m and sleeps up to 6 people. Upstairs is a large bedroom with a king size bed and a private balcony. On the ground floor there is a bathroom and kitchen/living area. There is a beautiful stone archway behind which is another lounge/bedroom. This comprises of two day bed/sofas that open to make further beds. There is a large terraced area outside where you are able to dine and enjoy the excellent views.

Kato Apartment costs €90 per night.
Please contact us for special rates for winter or long bookings.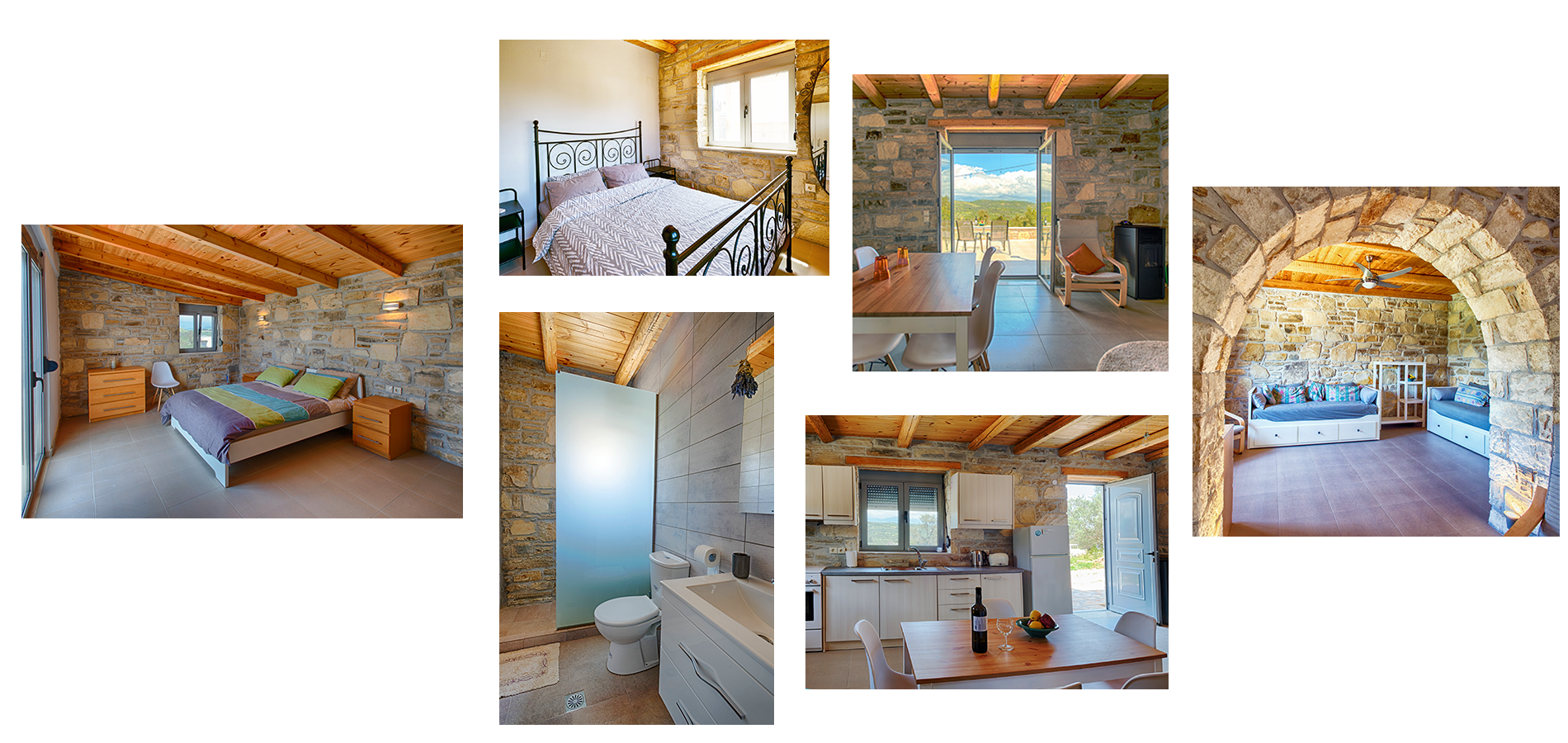 Kamilari and the local area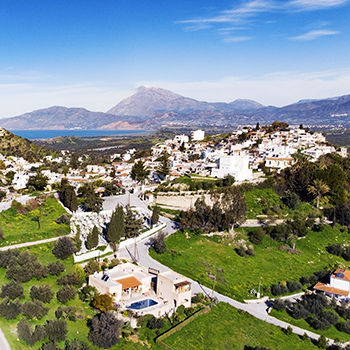 Kamilari is a traditional Cretan village with about 350 inhabitants, it has a supermarket, bakery and a good selection of gift shops, café bars, restaurants and tavernas, all within walking distance. Geographically it is in a good position, a one hour drive from either Heraklio or Rethymnon. Within a few kilometers there are many nice beaches the most popular being Kalamaki and Matala.

Matala has its famous caves where hippies  lived in the 60s and 70s including Joni Mitchel. There are other beaches such as Kommos which also has a naturist beach,  for that all over tan.  If you travel a little further there are the beaches of  Paxi Ammo and Kokkinos Prygos. Kokkinos Prygos is especially good for children as it has a gently shelving sandy shoreline, great for swimming. From May to August most of the beaches in the area are visited  by the loggerhead sea turtle (Caretta Caretta).
 It is also close to the ancient sites of Festos, Agia Triada and Gortys.  It is an ideal place for walking holidays  as it is on several major walking routes linked by a major Minoan path running from Agia Triada through Kamilari and Agios Ioannis to Festos. In the spring you can discover the wild flowers many of which are indigenous to Crete.
"Thank you for a lovely stay at the apartment. Everything was perfect. Beautiful place, great views, spotlessly clean and meals at the restaurant were excellent. Hope to return for future visits."
"Gemütliches Ambiente und leckeres Essen. Diese Taverne ist ein Muss :-)."
"Great menu. Friendly family restaurant."
"Very good food and very nice people."